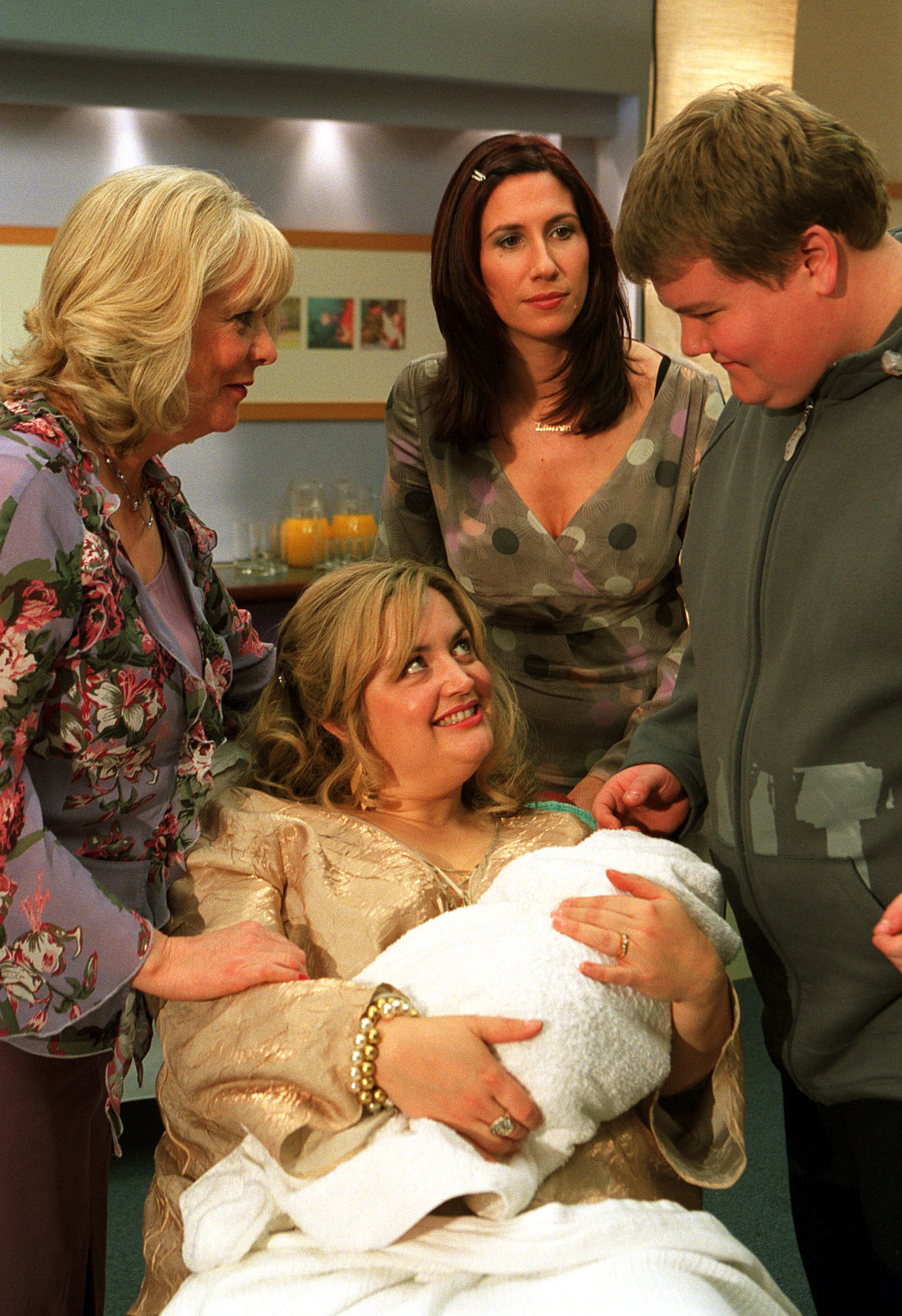 Fat Friends
Fat Friends follows a group of people who meet every week at a slimming club. From the curvaceous Kelly who wants to fit into her wedding dress, to overeater Jamie, who's bullied at school for being overweight, each of our Fat Friends have their own reasons for dieting…and then breaking it…and then dieting again.
SERIES ONE
Episode One: The day of the regional finals for Superslimmers 2000 brings a realisation for Betty. And her daughter Kelly buys a wedding dress two sizes to small for her.
Episode Two: When Alan take Liz out to celebrate their twentieth wedding anniversary he learns she has far more important things on her mind than celebrating their marriage.
Episode Three: Faced with a mother who thinks she's a walking skeleton and a commitment phobic boyfriend who calls her puddin' what is Lauren to do?
Episode Four: Coping with being a teenager is hard enough, but are the pressures of looking after a depressed mother as well as being bullied at school too much for Jamie to bare.
Episode Five: Faced with a launch party for her new magazine Val's decision about who she takes sends her on a quest to unearth some hidden truths about the slimming world.
Episode Six: Will Kelly survive her hen night and get into her wedding dress in time for her wedding?
SERIES TWO
Episode 1: Kelly wants a baby and what Kelly wants Kelly gets. She is willing to do almost anything in order to get pregnant, but will Kevin stay the distance? Meanwhile Carol a.k.a. the Stick Insect is throwing up her own problems as she goes head to head with Julia Fleshman.
Episode 2: Unemployed actress Lauren is desperately seeking someone to share her life with, but when she falls hook, line and sinker for someone totally unsuitable, the question is should she keep true to her faith or tell her Jewish parents?
Episode 3: Birthday blues are the least of Val's problems. Mis-trust, jealousy and insecurity all lead to Val's world being turned upside down, when she confronts her male escort lover about what he gets up to with his clients.
Episode 4: Divorce papers land on bus driver, Alan's doormat, his blood pressure goes sky high and it's the day of his medical, he's got the breathing of a seventy year old and he loses his job. It's the worst day of Alan's life and it's not about to get any better, despite three women battling over him.
Episode 5: Jamie discovers the true meaning of friendship when he finds himself seduced into the wrong crowd. Can he detangle himself from the mess or will he end up digging himself in deeper?
Episode 6: With a garden centre job that she loves and secretly adoring a man, life seems rosy for the shy and retiring Rebecca, until a face from her past appears and threatens the sanctuary of her green fingered world.
Episode 7: Betty is shocked when her childhood sweetheart turns up at the slimming club. Betty tries to suppress her rekindled feelings for him, but his return unearths a torrent of feelings and a past, which she had tried to bury.
SERIES THREE
Episode One: Carol arranges for the "Count with Carol" gang to appear on a dieting Christmas Special with Trisha. During the show, Betty reveals family secrets on air and her home life is put in a complete spin.
Episode Two: One night of lust and Kelly gets the family she always hoped for but, unfortunately the same cannot be said for Kevin.
Episode Three: Max provides a manly shoulder to cry on, when Carol is reunited with her estranged sister. If she can learn to forgive others, maybe she'll start being nicer to herself - at least that's what the Fat Friends hope.
Episode Four: Lauren has the chance to make all her acting dreams come true at the price of losing everything and everybody that matters. How does she get back her friends when she needs them most?
Episode Five: Rebecca decides that it is time to leave home. Her boyfriend Sean is keen to help with the move, but her break for independence is however, short-lived when tragedy strikes and Norma needs support.
Episode Six: Will Jamie's talent as a trainee chef help our Fat Friends win the title of Slimming Group of the Year on the Trisha show, or hinder it? Will the return visit of our Fat Friends to the studios bring them closer together or will the secrets learnt push them further apart?
SERIES FOUR
Episode 1: As the Fat Friends return from their 'Tricia-Prize' holiday in Spain, Betty embarks on an obsessive relationship with her Son, Simon. Betty and Simon cause chaos all around them, in their attempt to make up for lost time. Can Betty find a way to have it all or will she be forced to make a choice between her son and the rest of her family.
Episode 2: As Kelly embarks on her mission to be a fit mother, will she be able to stay away from the temptations in her path? Can she prove to herself, as well as everyone else, especially her mother, that this time...she's serious. Can Kelly achieve her ultimate goal...to be a fit mother and model wife...not a just fat, funny girl.
Episode 3: Norma Patterson only ever loved one man, so she's not looking for Mr Right, but Mr Good Enough, or Mr Better than Nothing. So when Mr Right does turn up she can't believe her luck. Everything's looking rosy for Norma; that is until the carpet is pulled from under her feet. Just when Norma thinks that life can't get any worse, fate deals her an unexpected card.
Episode 4: They say love is blind...and deaf as well... especially when your friends are being less than kind about the person you want to spend the rest of your life with. Jamie ignores his friends' warnings with tragic repercussions and is left with a responsibility that no twenty-year-old should have.
Episode 5: How can a weekend at a Health Spa that was so full of promise for Carol turn into a nightmare so quickly. How will Carol be able to talk her way out of this mess? Will the Fat Friends ever trust her again or has she really blown it this time. What will it take for Carol to share her problems and accept help from someone else?
Episode 6: You can choose your friends, but you can't choose your family. But are friends enough when it's your family that's supposed to be there. Your wedding day is supposed to be the happiest day of your life, but Lauren's finding it hard to smile. Can she go through with it or will she be forced to walk away from the man she loves.
Cast:
Betty Simpson – Alison Steadman
Douglas Simpson – Barrie Rutter
Kelly Simpson – Ruth Jones
Kevin Chadwick – Jonathan Ryland
Val Lorrimer – Kathryn Hunt
Alan – Richard Ridings
Carol McGarry – Janet Dibley
Jamie Rymer – James Corden
Rebecca Patterson – Lisa Riley
Julia Fleshman – Josie Lawrence
Max Robertson – David Harewood
Writers:
Kay Mellor
Gaynor Mellor
Lisa Holdsworth
Ruth Jones
Debbie Oates
Producers:
Yvonne Francas
Gareth Morgan
Josh Dynevor
Directors:
John Anderson
Lance Kneeshaw
Tania Diez
Audrey Cooke
John Deery
David Wheatley
Dan Zeff
Fat Friends